ProWeb Associates is a premier provider of web solutions for any size business. From local hosting and web development to powerful dedicated servers and online security, ProWeb has evolved into a one-stop internet solution resource hub for many institutions and companies. Benefiting from more than nineteen years of experience and innovative online problem solving, many clients have come to trust the creativity and dependability ProWeb provides day in and day out.
ProWeb Associates does not promote out-of-the-box or pre-packaged solutions that result in your business fitting into a pre-programmed package, not designed specifically for you Our custom products & services are designed to work with your business, based on your needs, goals and budget.
Our extensive experience and solution oriented approach provides customized options to meet and exceed your objectives, on time and within budget.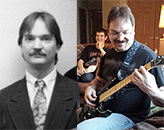 Thank you for visiting.
It's been hundreds of projects & millions of lines of code, 1000s of pots of coffee all to bring many project ideas to life.  This picture of me, on the left 24 years ago suit and all, doing a presentation for AT&T web sales people as an AT&T Web Partner. On the right, current day on a recent vacation playing guitar with my youngest son in the background. I still own the suits but the years have made me very comfortable in my own skin.
Some of the things we are doing today compared to 1995 are amazing. I remember swapping out or 33.6 modem with digital modems to offer 56k dial up access. Installing the tcp-ip stack and dial up access software on windows 3.1, web pages had basic html with no backgrounds, most used Netscape Navigator, seems like yesterday.
The programming languages, hardware, broadband we have today allows us to communicate & work like no time before. As a developer times are good, the tools we have today give us the ability to create and compile software/web portals of a higher quality, better security & cost benefit than ever.
Allowing users to work together on platforms they are familiar with, securely from anywhere in the world. On different devices & operating systems sharing, accessing, updating information. We developers have been busy, not only using the current available technologies but creating the new ones along the way.
Let us help you get your idea off the ground, streamline, communicate better or provide a solution for whatever hurdle you are facing?
Contact us when your ready!